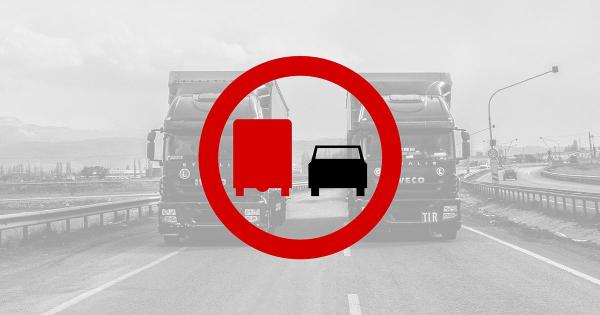 Catalonia – additional HGV restrictions
Owing to forecasts of significant increases in traffic volume on 6 June, an additional HGV restriction has been introduced on some road and motorway sections. Vehicles or combinations of vehicles with a maximum authorised mass of more than 7.5 tons are required to use the right lane and must not overtake other vehicles and drive faster than 80 km/h.
The restriction applies on:
✅ the southern section of the C-32, between KP 47.5, the Gavà exit, in the commune of Gavà and KP 60, exit 15 at l'Hospitalet, in the commune of Cornellà de Llobregat
✅ on the AP-7 motorway, between KP 158, where the B-30 joins the AP-7, in the commune of de Sant Cugat del Vallés, and KP 213 in the commune of Banyeres del Penedès
✅ on the B-23 motorway, between KP 8, exit 8 at Sant Feliu de Llobregat and Molins de Rei Sud in the commune of Sant Feliu de Llobregat, and KP 15.5 at the junction with AP-7, in the commune Castellbisbal
✅ on the northern section of the C-32, between KP 84.5, at the junction with the B-20, in the municipality of Montgat and kKP 114, at the junction 113 at Canet de Mar, in the municipality of Canet de Mar.
Latest Posts
by
Zgodnie z rozporządzeniem Federalnego Ministra Spraw Wewnętrznych, kontrole graniczne na wspomnianej granicy mają potrwać do 16 grudnia 2023 roku włącznie.6...
by
By virtue of a regulation issued by the Austrian Minister of the Interior, checks at the Austrian-Czech border will continue until December 16, 2023.The...
by
On Saturday, November 11, an overtaking ban for lorries with a MAM over 3.5 t was introduced in the Czech Republic, which also applies to the D1...