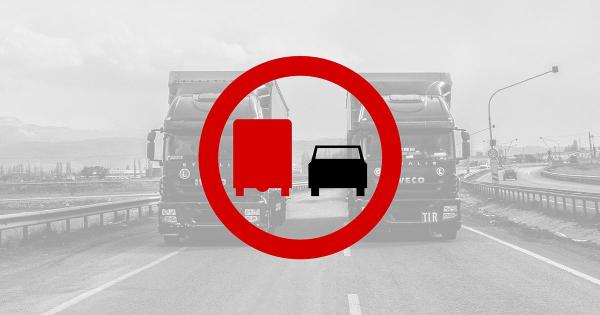 Catalonia – additional HGV restrictions
Owing to forecasts of significant increases in traffic volume on 6 June, an additional HGV restriction has been introduced on some road and motorway sections. Vehicles or combinations of vehicles with a maximum authorised mass of more than 7.5 tons are required to use the right lane and must not overtake other vehicles and drive faster than 80 km/h.
The restriction applies on:
✅ the southern section of the C-32, between KP 47.5, the Gavà exit, in the commune of Gavà and KP 60, exit 15 at l'Hospitalet, in the commune of Cornellà de Llobregat
✅ on the AP-7 motorway, between KP 158, where the B-30 joins the AP-7, in the commune of de Sant Cugat del Vallés, and KP 213 in the commune of Banyeres del Penedès
✅ on the B-23 motorway, between KP 8, exit 8 at Sant Feliu de Llobregat and Molins de Rei Sud in the commune of Sant Feliu de Llobregat, and KP 15.5 at the junction with AP-7, in the commune Castellbisbal
✅ on the northern section of the C-32, between KP 84.5, at the junction with the B-20, in the municipality of Montgat and kKP 114, at the junction 113 at Canet de Mar, in the municipality of Canet de Mar.
Latest Posts
by
The closure is due to the construction work on the Deutsche Bahn bridge parallel to the Cranger Straße bridge.As already announced, the A43 will be closed...
by
The both pipes of the Tijsmanstunnel (R2) tunnel will be closed at the end of May and the beginning of June in order to install new wall panels.Night...
by
Owing to maintenance works, the tunnel will be completely closed from 7:30 PM to 6:00 AM on the following nights.JUNE - Thursday, 23rd / Friday, 24th; -...