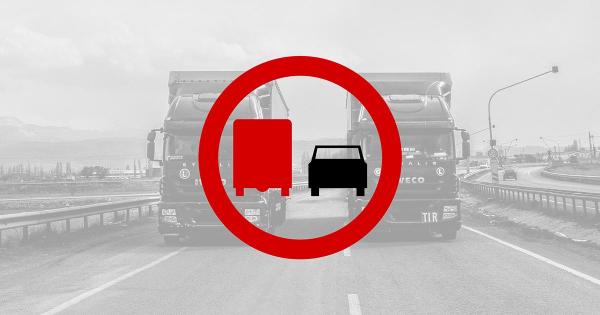 3.02.2023 -HGV restrictions in Catalonia
Owing to forecasts of significant increases in traffic volume on the 2nd of February, an additional restriction will be introduced on some road and motorway sections for vehicles or combinations of vehicles with a maximum authorised mass of more than 7.5 tons, which are required to use the right lane and must not overtake other vehicles and drive faster than 80 km/h.
On Friday, February 2, between 3:00 PM and 9:00 PM, the restrictions will apply on the following road sections:
➖ the AP-7 motorway, between KP 126, exit 12B at La Roca del Vallés, Granollers and the junction with the C-60 in La Roca del Vallés, and KP 172, exit 25 at Martorell and the junction with the A-2 in the Martorell commune;
➖ the AP-7 motorway in the territory of Terres de l'Ebre, where there are only two lanes, between KP 257, exit 35 at Vila-seca, Salou, Reus S. and Port Aventura, in the municipality of Vila-seca, and KP 344,8 the border between Tarragona and Castellón, in the municipality of Ulldecona.
Latest Posts
by
The measures are connected with renovation works scheduled to last about 8 weeks, depending on weather conditions.Since Monday, September 11, traffic along...
by
From the 11th to 23rd of September, the Königshainer Berge tunnel in the district of Görlitz will be closed for renovation. The Gotthard Tunnel closed since...
by
The Gotthard Road Tunnel will be completely closed for several nights for cleaning and maintenance work.♦ September 11-15 (4 nights) - every night from 8:00...