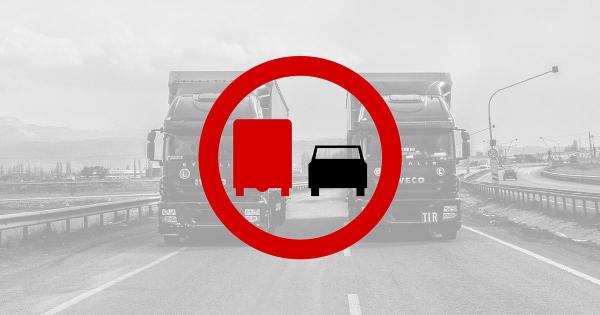 Czech Republic: the overtaking ban for HGVs on the D1 to come into force at a later date
The ban on a 100-kilometer section of the D1 motorway was originally supposed to come into effect this summer, but due to technical problems and the lack of signs informing about the ban, the date of its introduction has been postponed.
The overtaking ban for HGVs in the Czech Republic has been in effect since the start of 2020 on some sections of the D5, D8 and D11 roads in the Prague area, on the renovated D1 near the cities of Brno and Ostrava, and on two sections of the D8 in the north of the country. The plan was to also introduce the ban on a 100-kilometre section of the D1 motorway before the end of summer. However, so far only very few signs informing about the ban have been put up. According to the Czech ministry of transport, 500 signs are to be installed in Prague by November 1.
In addition to D1 in Vysočina, the ministry is also planning to introduce the overtaking ban for HGVs on 33 new sections of the D2, D5, D7, D8, D11, D35, D46, D55 motorways and on the four-lane I/11 road near Ostrava.
Latest Posts
by
Zgodnie z rozporządzeniem Federalnego Ministra Spraw Wewnętrznych, kontrole graniczne na wspomnianej granicy mają potrwać do 16 grudnia 2023 roku włącznie.6...
by
By virtue of a regulation issued by the Austrian Minister of the Interior, checks at the Austrian-Czech border will continue until December 16, 2023.The...
by
On Saturday, November 11, an overtaking ban for lorries with a MAM over 3.5 t was introduced in the Czech Republic, which also applies to the D1...