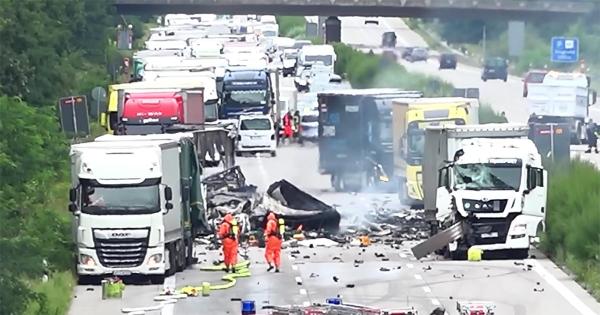 Germany: the A2 towards Magdeburg closed until Saturday
Cleanup operations are still underway after the accident that happened on Tuesday afternoon on the A2 motorway in the direction of Hannover, between the junctions Theeßen (75) and Burg-Ost (74) near Grabow.
On Wednesday, August 30, the protection zone around the accident site was lifted, which enabled the police to start their investigation. In the evening, the carriageway towards Berlin was cleared and reopened to traffic. The carriageway towards Magdeburg will be closed until Saturday. Drivers are advised to use diversions along the A14 and A9.
The bodies of two drivers who died in the accident have been removed from the vehicles. The police are trying to establish the identity of both victims and determine what caused the fire.
Latest Posts
by
The measures are connected with renovation works scheduled to last about 8 weeks, depending on weather conditions.Since Monday, September 11, traffic along...
by
From the 11th to 23rd of September, the Königshainer Berge tunnel in the district of Görlitz will be closed for renovation. The Gotthard Tunnel closed since...
by
The Gotthard Road Tunnel will be completely closed for several nights for cleaning and maintenance work.♦ September 11-15 (4 nights) - every night from 8:00...